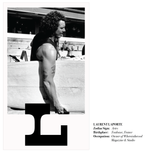 What's something we may not know about you?  I had three aquariums once in my bedroom.
If you could share a joint with anyone in history, who would it be?  Frank Ocean only smoke solo.
What's the best vintage item you've ever owned?  A Porsche 964.
What's your dream car?  A Twingo Perrier, a Polo Harlequin or a Renault Espace 1.
What album or song most represents you as a person?  Surf's up.
What's your favorite song to dance to?  Vintage Timbaland prods.
Do you have any special creative talents you rarely share?  Is Bbq is considered creative?
If you could be anyone in history for a day, who would you be?  Anyone in a seat during a Michael Jordan match.