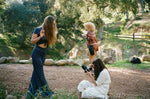 Making magic is fun and easy with the right people.  It takes a lot for a photo shoot to happen.  But the stars have to align just right to make a GOOD photo shoot happen. This was one of those magical times in space where everything was aligned on our Elsewhere shoot.
Much love and gratitude to our lovely priestess: muse: artist: model: Baelyn Elspeth.  She is true creator of sacred space in many beautiful ways. Learn more about her www.allmattersofspirit.com 
None of it would have been possible with out our sister Bunni Wyldeflower.  She captured the magical moments with her Hasselblad film 120 camera. She also made it all happen with all the Topanga Canyon hook ups.  One of which was the super special land we got to shoot on called Elsewhere.  A must-stay for the star seekers, guaranteed to spot a shooting star while soaking in your private cedar hot tub.
And special thanks to the newest member of the Stoned Immaculate family, Nikki Houston our Super 8 Director and vintage muse.  A real lover of all things vintage.
The whole Elsewhere shoot will be under look books, soon!  Until then here are a couple of our favorites.