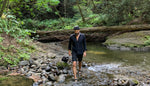 MEET STONED IMMACULATE CO-FOUNDER + CREATIVE DIRECTOR, ELLIOT HANS
BORN IN FASHION
I really was born into it. I grew up on the Venice Beach boardwalk with my Dad and Aunt, whom at the time had a clothing company called, LA GLO. They sold tube tops to the roller skaters that would dance and skate around Venice Beach. LA GLO, grew from a rolling rack on the boardwalk to a global enterprise which, I was present for all of my youth and into my early 20's.
As every summer was spent working with Dad in DTLA, I took on tasks such as shipping, cutting service, printing patterns, photoshoots, selling at trade shows, and working with designers at a young age. This was when I got my hands dirty and really learned all aspects of the business. My favorite room in all of them was the design and photography room. I have this memory of sitting at this huge drafting table where our team of designers would create sketches of dresses and with my rainbow-colored sharpie box, I'd fill in all the dresses with my own designs and patterns.
After observing and living in the fashion industry my whole life, by the time I was in high school, I knew I never wanted to work in fashion. I even remember making defiant statements, that I would never be in the fashion business. Instead, I was much more interested in playing music in my band and taking photos of up-and-coming artists and musicians in LA. When I graduated high school, I wanted to be a Musician, Photographer and Music Director.
At the age of 19, I met Ozzy Osborne through mutual friends. We got to talking and he asked what I was doing for the summer? I said, "Continue to shoot photos and travel." He responded with, "Great, come with me and the boys for Ozz Fest 1998 and do that." I said, "Okay, but I need to ask my dad." So here I just graduated from high school with my 35 mm camera around my neck standing on the side stage in England while Black Sabbath plays to a sea of fans taking photographs of these Rock Legends. After 3 months of a world tour, my life was again forever changed. While on that tour I became friends with many bands that were on the tour and got to work with them by directing projects and taking photographs for their albums and various press releases. A couple of those bands include, System of a Down & Deftones. 
From 1998 to 2003, I was playing music in a band and doing fashion photography for numerous bands, albums covers, and directing music videos and commercials. I ended up on another 3-month life changing experience going behind the scenes as Director and Assistant Producer to the movie Rush Hour 2. Working endless days, we shot in Vegas and Hong Kong and lived in both areas for a month in a half each until I was sent home on medical leave from exhaustion and extreme illness. 
MY FIRST CLOTHING BRAND
In 2003, my band mate Eric and I decided to make some t-shirts in our house for our band's merchandise. We found out very quickly that there was a need for vintage punk rock distressed t-shirts. At the time, there was nothing like this in the market. I told my buddy, "Let's make a ten-piece collection!", which consisted of images from my photography to graphics like Abandoned All Art Now, Protect Yourself from Hollywood, and Happiness is a Warm Gun, to name a few. Then we'd sell it to high end boutiques in Los Angeles for a $100 retail price.
So, we each threw in $500 and with our $1000 budget we came up with the name, Morphine Generation. From there, we bought blank tees from American Apparel which, we then silk screened in our house, proceeded by numerous ways to make it look like Sid Vicious just played a concert in it. We started off by shooting buck shots at the tees which put 100 holes in the shirt to taking a razor blade and creating small little, tiny holes at random.
We also grinded the shirt's edges on a hand grinder that we bought at Home Depot. Then adding the final touch of dying them in coffee grinds and tea bags to antique the colors. One-of-a-kind pieces of art that stood on their own. Here we were, with our first 10-piece collection of completely fucked up beautiful pieces of artwork. We stuffed them into a backpack and headed to the top boutiques in Los Angeles like the well-known, Lisa Klein. We told the girl at the cashier, that we were there to sell them some shit and we threw our bag of shirts on the counter like a case of beer. 
As timing would have it, we happened to walk in the exact moment the owner and buyer Lisa Klein was there. She asked who we were, and we replied, "We're nobodies, were musicians and we have tee shirts for you to sell for $100." At the time the most expensive tee shirt in her store was $60. She laughed at our cocky confidence and said, "Show me what you got." 30 minutes later we walked out with our first PO that equated to $7800. We played it cool all the way down Robinson Blvd until we got to our car and screamed at the top of our lungs, "Holy shit, what just happened?!" This was the day I embraced all the years of training in the fashion world and became a designer. Fast forward 3 years, Morphine Generation went from $8000 to $8 million and became a global critically acclaimed clothing brand.
I went on and co-founded Literature Noir and Stoned Immaculate as well as becoming the Creative Director & Designer.
WHAT I FIND MOST REWARDING ABOUT STONED IMMACULATE
As Co-Founder and Creative Director, my favorite part is the initial vision and inspiration I see for a new collection, envisioning our customers, and turning it from a dream to reality. I love shooting everything on film and seeing that whole process from vision to vision. And seeing someone wearing our designs when out in the wild is the most rewarding experience.
THE INTENTION BEHIND THE DESIGNS
I really want women to feel free, confident, empowered, beautiful, and unique. It's the vision that keeps me inspired, knowing that SI really speaks to independent and free-spirited women in the world.
WHAT INSPIRES ME MOST WHEN DESIGNING
What inspires me when designing are the 60's & 70's. Under that umbrella, all of the events that occurred during that time frame light me up. My number one inspiration is music, including Bowie, Zeppelin, The Doors, Hendrix, and The Grateful Dead. The second, was the hippie free loving movement, Woodstock 1969, Ram Dass, Timothy Leary, The Source Family, yoga, cults, communes, and the psychedelic movement, all things that expanded consciousness and broke the mold of the Leave it to Beaver lifestyle.
I'm inspired by the voices that stood up for change which I am echoing generations later. I am tilting my hat to the leaders of this consciousness expansion. The hippie fashion was breaking the mold with what was and what is.
HOW I DEFINE FASHION
It's a movement, it has a voice, and it can be a cause.
HOW TO STAY RELEVANT IN A WORLD OF TRENDS
Honestly, I don't follow trends. I really don't know what's poppin as I don't look at fashion magazines. I stay connected to our core customer and the brand's identity which has its' own lane of unique expression.
WHERE I SEE THE VISION OF STONED IMMACULATE
I want to bring awareness to sustainable fashion and create high quality products that last for generations to come. I also see Stoned Immaculate becoming a fully integrated lifestyle brand with home décor, footwear, perfume, and kids wear. My personal vision and passion, however, is to build a community that promotes growth and embraces our higher consciousness via in person events and lifestyle + wellness retreats.
THE WEAKNESS THAT TURNED OUT TO BE MY GREATEST STRENGTH
My greatest weakness was having ADD & Dyslexia. My greatest strength is having ADD and dyslexia. Anyone that has ADD knows the struggles of being organized and those with Dyslexia, the struggle with writing an email that takes twice as long as it should. My weaknesses are also my superpowers and learning that balance has proven to be the ultimate reward in my life.
IF I COULD GO BACK AND TELL MYSELF ONE THING BEFORE STARTING MY CAREER...
Learn to meditate. Owning any business in any industry is like juggling plates and putting fires out and if my mind is not in a place of peace of mind, which meditation yields, I'm being pulled in every direction and feeling overwhelmed, stressed out, and checked out. I found meditation 10 years ago as a daily practice which has allowed my mind to find peace in the storm.